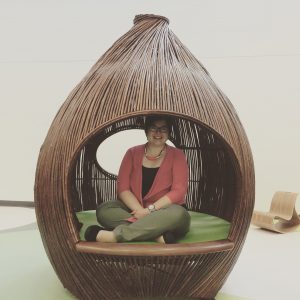 Email: amy.e.koester(at)gmail.com
Blog: Show Me Librarian
Twitter: @amyeileenk
I am the Learning Experiences Manager at the Skokie Public Library just north of Chicago. I oversee a department of 16 dedicated to developing, coordinating, and implementing programs and experiential learning opportunities for all ages. I'm part of a team focusing on methods for capturing program outcomes and telling the library's story to our community. I also spend a good deal of time working on the Civic Lab at my library. I hold an MLS from Indiana University (2011) and a BA in English Literature from DePauw University (2009).
I'm a big believer in collaboration and both formal and informal leadership in the library profession. I co-founded Storytime Underground, a grassroots collective of youth librarians who train, support, and advocate for one another. I also helped run Little eLit, a blog and community that led the early charge around youth and new media that is now known as media mentorship. I served as a board member for the Association for Library Service to Children from 2016-2019 and am now a Priority Group Consultant for the association.
I have particular interest in informal STEAM education, developmentally appropriate programming, parent engagement, and outcomes and impact measurement in libraries, and I've taught online courses on a number of these topics. I am also passionate about, and always looking to learn more about, diversity in library collections and the profession.
When I'm not librarianing, I'm a big fan of One Direction-adjacent anything, space opera, and trying new recipes.